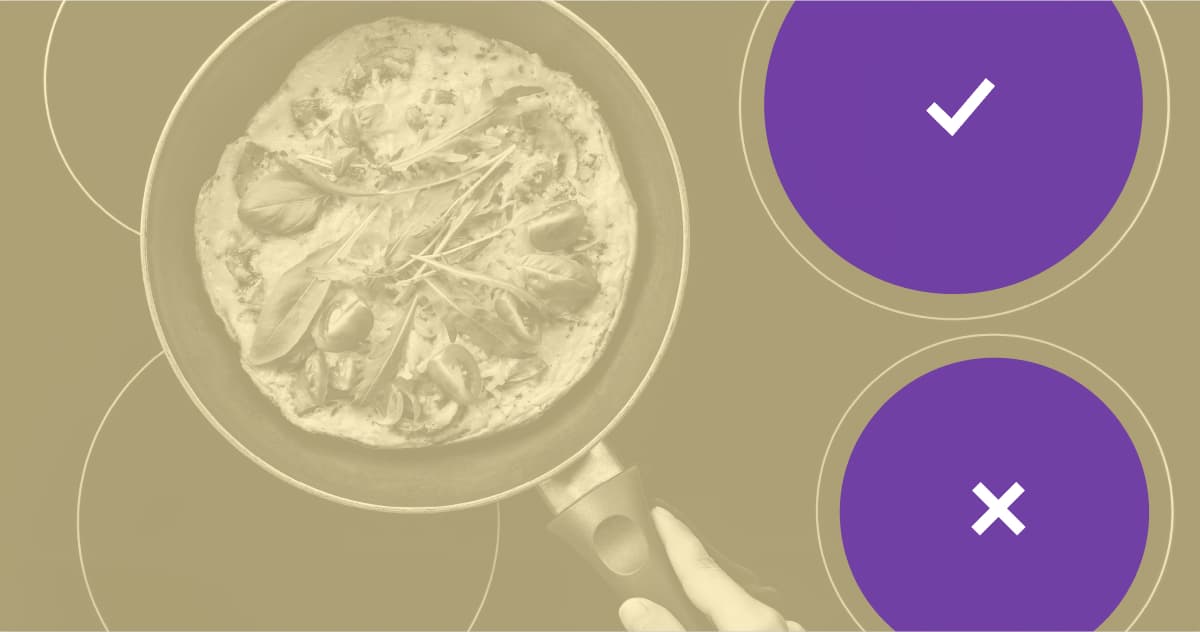 As more research points to the harmful health effects of gas stoves, induction cooktops are becoming the norm across the United States. All new buildings in New York state will be built with induction or electric stoves and states like California are providing incentives to invite contractors and builders to choose induction over gas. According to The Wall Street Journal, "shipments of induction ranges in the U.S. grew 30 percent year-over-year in 2020, versus 3 percent growth overall in the free-standing range category." This is the era of induction cooking — healthier for your family, better for the environment, and a cleaner way to cook, too. If you are considering switching from gas to induction, we're here to help. Here's all the information you need to know.
Electrifyingly fast
Induction stoves are more efficient than gas because they heat the pan directly using electromagnetic coils. More efficient means less energy, less radiant heat, and a faster zero-to-boil time. Cooking with induction gives you a consistent temperature and precise control over your cooking. You'll perfectly pan-fry your favorite food every time.
Cleaner air to breathe
Gas-burning stoves release harmful pollution into your home including nitrogen dioxide, carbon monoxide, formaldehyde, and benzene, a known carcinogen. 
A recent Stanford University study of 87 homes in California and Colorado measured benzene emissions from gas stoves and "found indoor concentrations above health benchmarks set by the World Health Organization and other public agencies."  Upgrading to induction gets fossil fuels out of your home and creates a healthier environment for your family.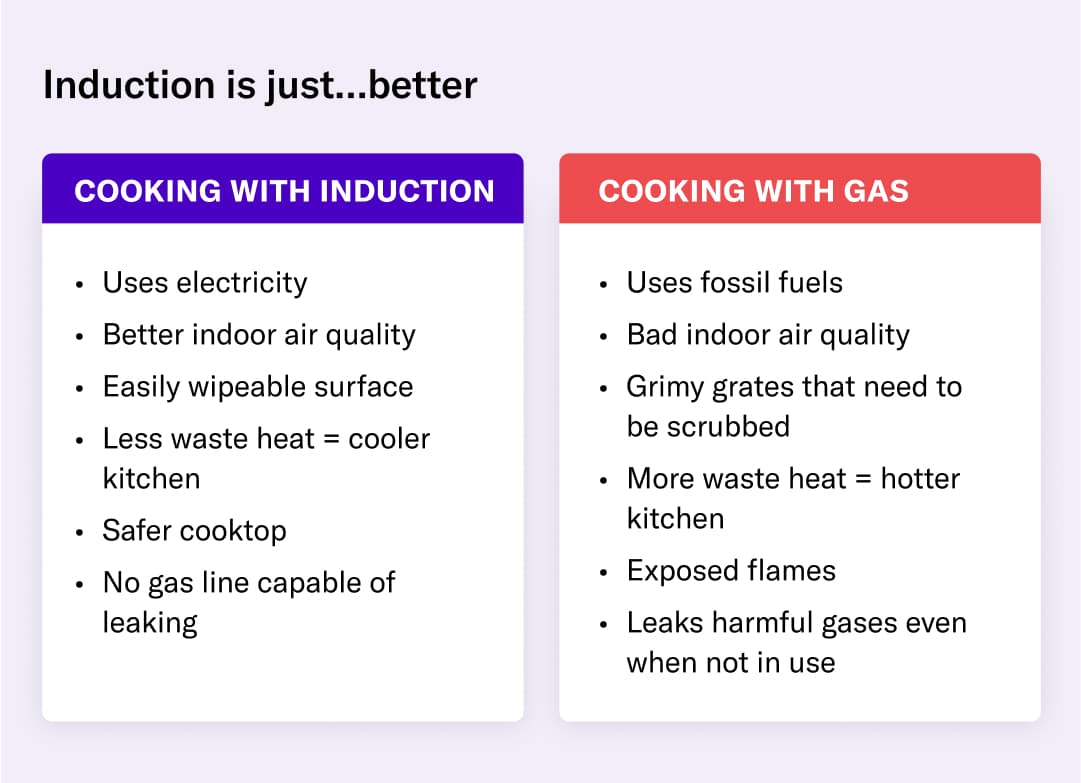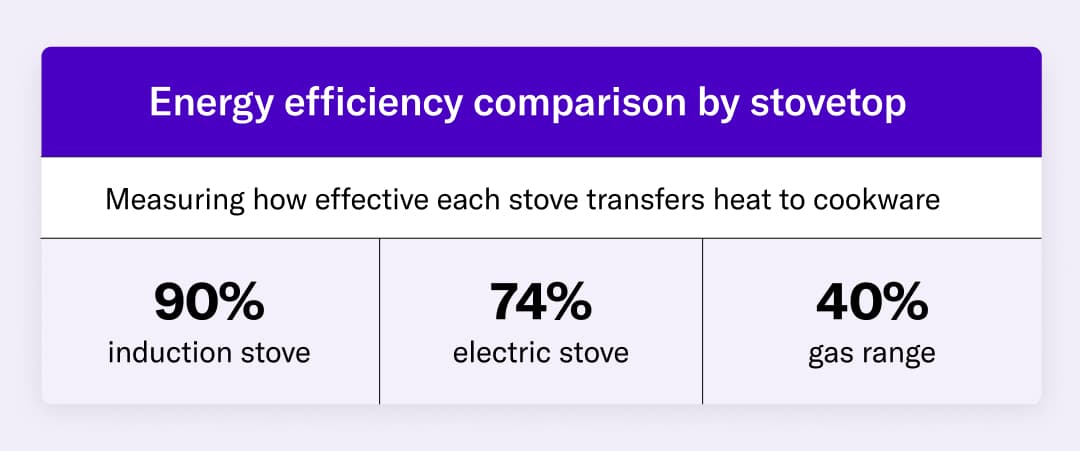 Cool, cool kitchen
During the summer, cooking over an open flame is so uncomfortable. Here's an idea: Why not cook without an open flame? Induction stoves enable you to cook without lighting gas on fire, so they waste less heat, your kitchen doesn't get unbearably hot, and you don't work up a sweat before dinnertime. A comfy, cool kitchen is something all home chefs can agree on. 
A breeze to clean
Induction stoves feature shiny glass and ceramic tops. Their sleek and fancy wipeable surface is also way easier to clean. You won't cramp your hands while tirelessly removing dried food and sauces from your gas stove's grates and burners. And you will definitely not need to use harsh, toxic chemicals to clean your stove. All it takes is a damp cloth (and maybe a splash of distilled vinegar).
Wok, wok
If you love cooking with a wok, there are induction range tops and portable induction burners built to provide the high heat and large surface area that wok cooking requires. These specialty stoves feature concave burners, which the wok rests within, allowing the sides of the wok to heat up and helping make perfect sesame scallion noodles or veggie fried rice. Watch these cooking testimonials from Chef Jon Kung  and Chef Nite Yun for a closer look. Warning: may induce hunger.
Safer cooking with a capital 'S'
With induction stoves, the days of accidentally burning your hand over an open flame or charring your beloved tea towels are over. Induction stoves heat your pot, not the stovetop, so there is less risk of getting burned. You also don't have to worry about tiny pet paws or tiny toddler fingers touching an open flame or hot, hot metal grates. Many induction stoves also come with safety features like auto shut-off just in case you forget to turn the burner off.
Higher upfront costs—but there's a rebate for that
The average cost of an induction stove is $1,300, which is a higher price point than gas and electric stoves. But, thanks to the Inflation Reduction Act (IRA), there are ways to save, including household rebates on point-of-sale purchases. Available later this year or early next year, households can save up to $840 on an induction stove purchase. Visit Rewiring America's IRA savings calculator to learn more about your personalized savings.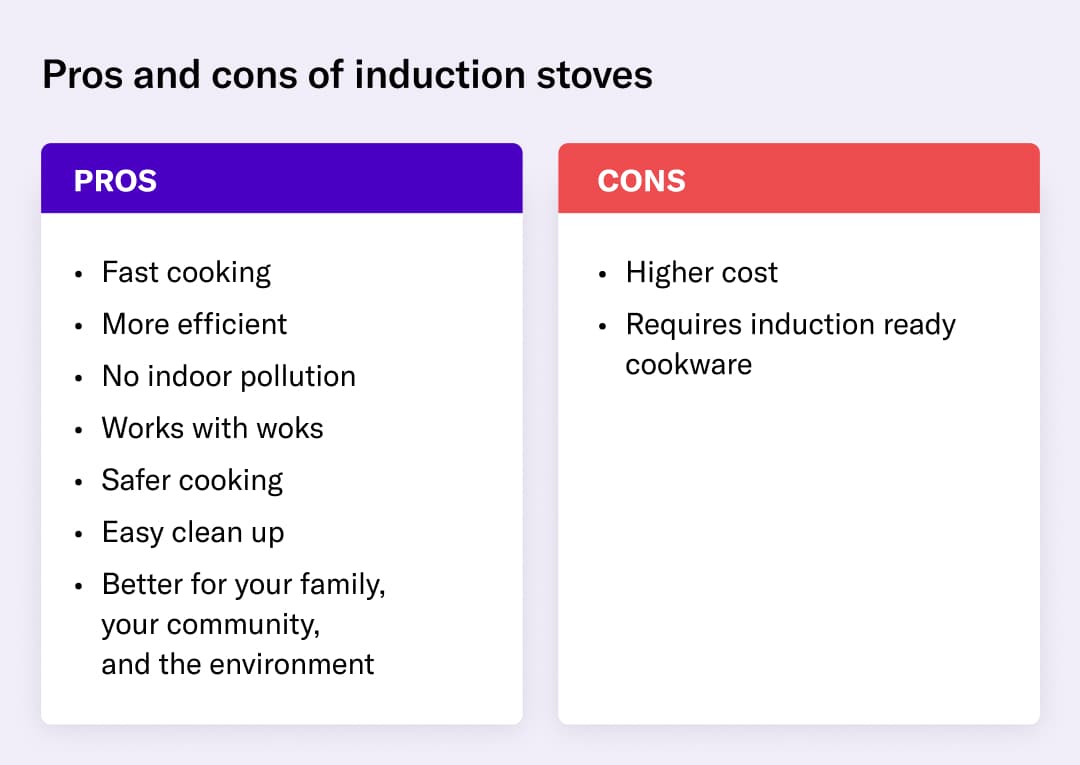 Cue the cookware
Since induction stoves are powered by electromagnets, you'll need pots and pans made of compatible metals to take advantage of the direct heat and fast cooking times induction cooking offers. Most modern cookware is compatible with induction. And plenty of online and brick-and-mortar retailers offer a variety of frying pans, skillets, dutch ovens and, more to match your decor and cooking preferences. So if you are looking to invest in new cookware, check out Consumer Reports for inspiration.
A show horse… gets a lot of attention
It's true that replacing your induction stove has a smaller climate impact than replacing your heat pump water heater or heat pump HVAC system. But when was the last time you invited people into your home to stand around your water heater? The kitchen is the center of so many homes. Going electric with a high-performance induction stove is a great conversation topic. When they hear how much you love your induction range, your friends, family, and neighbors will be that much closer to taking the first step towards a clean, electrified home, themselves.
Induction stoves are an equity issue
Air pollutants disproportionately impact low-income and underserved communities. Everyone who cares deeply about environmental justice—and really, everyone should—can get excited about everyone having healthy air to breathe. If you are looking to take a climate action that creates a cleaner environment for all, this is it! We're in this together!
What's next?
If you already have an induction stove, awesome. Five stars! No notes! Go tell a neighbor or friend how amazingly wonderful induction stoves are. Seriously, stop everything and tell them right now. Or, share this article! 
And, if you haven't upgraded, yet (wink, wink), we hope we gave you some good insight into why induction stoves are worth all the hype.
Induction stoves are the best way to cook food, keep pollutants out of the air, and keep your family healthy. And this summer, we're launching a free tool to help you make the switch. Get personalized tips, step-by-step instructions, money savings advice, and more. Home electrification made simple. Check it out.