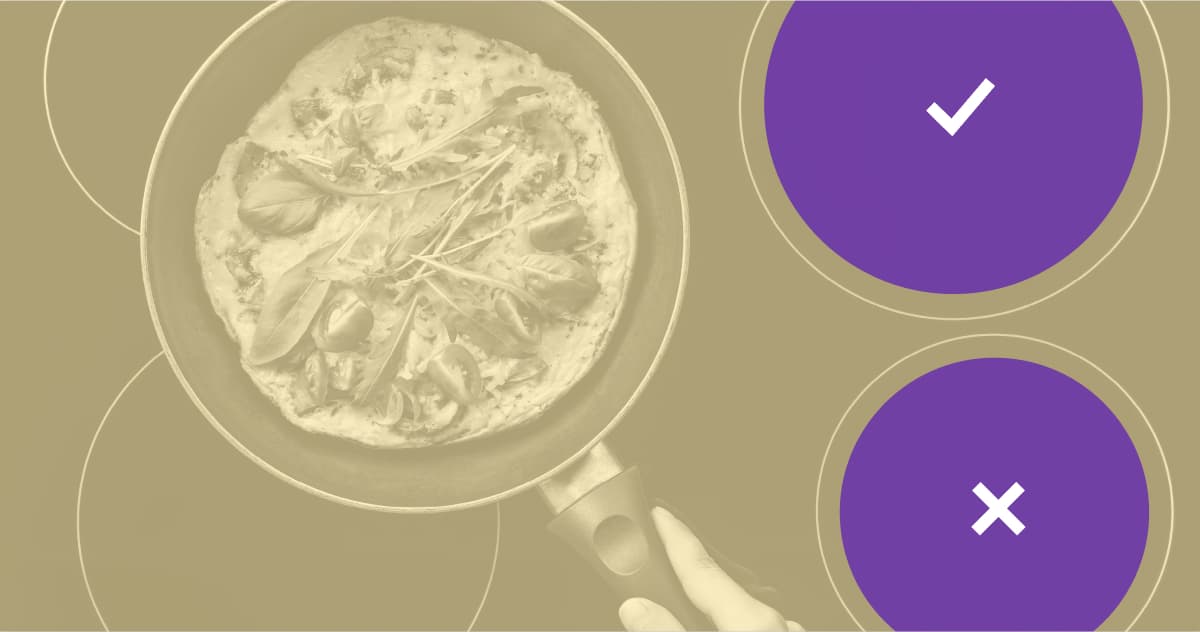 So you've decided to upgrade your gas stove to electric. Hooray! Now, here comes the fun part. Which electric stove do you choose? The superfast, super-efficient cooking machine also known as an induction stove? Or the budget-friendly, all-purpose electric range (a modern upgrade from the electric coils your grandma might have had)?
We know that this is a big decision, so to help you choose who gets the final rose, let's break down the similarities and differences between induction and electric. But first, here's how both stoves work. 
Electric, but different
Both induction and electric stoves are electric, but they use different types of heat to cook your food. Here's the difference:
An electric stove sends electricity into a resistive coil. Heat radiates out from the coils to your pots and pans. This process, called conduction, indirectly heats the pan, and eventually the food inside.
Induction stovetops cook using electromagnetism. When you turn on an induction stove, the coils create a magnetic field. This magnetic field induces a current in your pot and produces the heat that cooks your food. 
Induction cooking is faster and more precise than electric cooking. You'll notice differences in boiling and cooking time. However, modern electric stoves are reliable alternatives with all the power you need to cook any meal.
If speed is your jam, or if you despise watching pots that don't boil, get an induction stove. But if cooking is a marathon not a sprint for you, and you simply want a warm meal, an electric stove is a great choice.
Electric is cheaper — but big rebates are coming for both
Upgrading any home appliance is a big decision. Depending on your budget, costs might outweigh features or the latest technology. 
Electric stoves are more affordable than induction. The average price for an electric stove is $700, while induction stoves average about $1,300. 

The good news is that both stove types qualify for electrification rebates of up to $840, which can make these stoves drastically cheaper — or even free. These rebates will be available later this year or earlier next year. Visit Rewiring America's IRA savings calculator for your personalized savings.
Gas is last
Induction and electric stoves are extremely energy efficient. 90 percent of an induction stove's heat transfers directly to your cookware. While not as efficient as induction, electric stoves still outperform gas stoves. Compared to gas, electric stoves waste less heat; more heat is utilized to cook your food than warm your kitchen, which you'll appreciate when cooking on those hot summer days.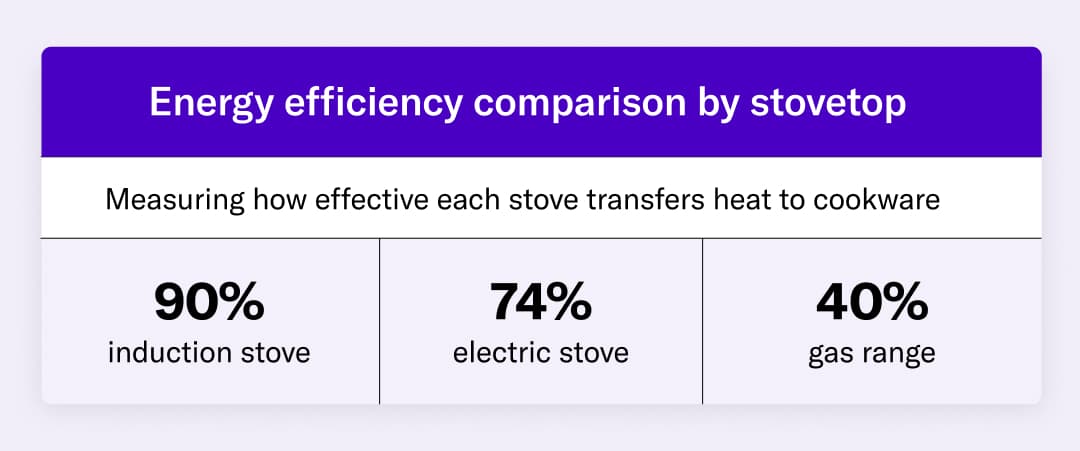 Let's talk pots and pans
Unlike induction stoves, you don't need induction-ready cookware for electric stoves. Your existing pots and pans will work perfectly. Aluminum, copper, and stainless steel all work. 
If you are switching to induction, don't fear. Most modern cookware these days are induction-ready (simply hold a magnet to the bottom to test). If you need to buy new pots and pans for your induction stove, there are a variety of brands to fit any budget or style preference.
Both are quick to clean
If you fancy a smooth cooktop, you can buy electric stoves that look like induction stoves. Design aesthetics aside, a smooth glass or ceramic stove top with no exposed burners is way easier to clean. But unlike an induction stove, the entire range top will be warm so spilled food sauces are likely to stick or burn. Quick clean-up is key.
Slower to warm and cook
Unlike induction stoves, electric stoves take longer to reach your desired temperature. They are not as responsive either — moving from simmer to boil will take longer compared to an induction stove. These are minor details that won't concern most home cooks, but if cooking to you is both an art and a science, you'll definitely enjoy the chef-like precision you get from cooking with induction.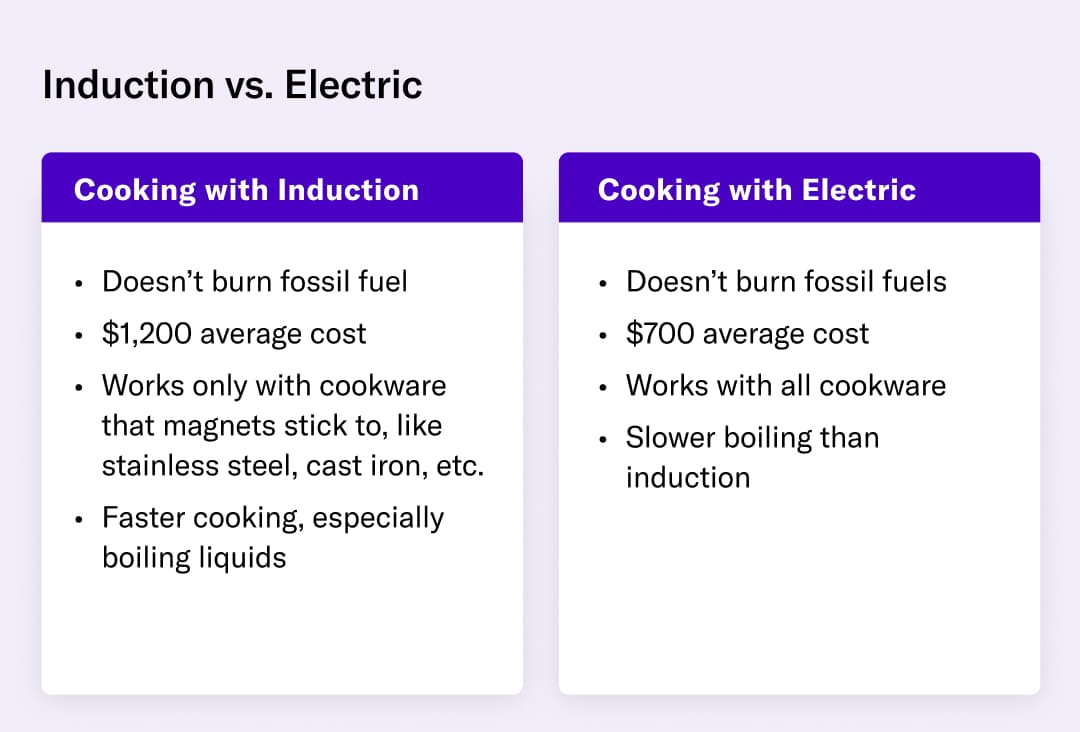 No harmful pollutants in your home
Both induction and electric are safer than gas because they don't emit harmful pollutants like benzene and nitrogen dioxide, which have been linked to cancer and asthma. In fact, having a gas stove increases the chance of childhood asthma by 42 percent.
With either induction or electric, you don't have to worry about polluting your home's indoor air or endangering your family's health, especially the vulnerable, developing lungs of any children in the home.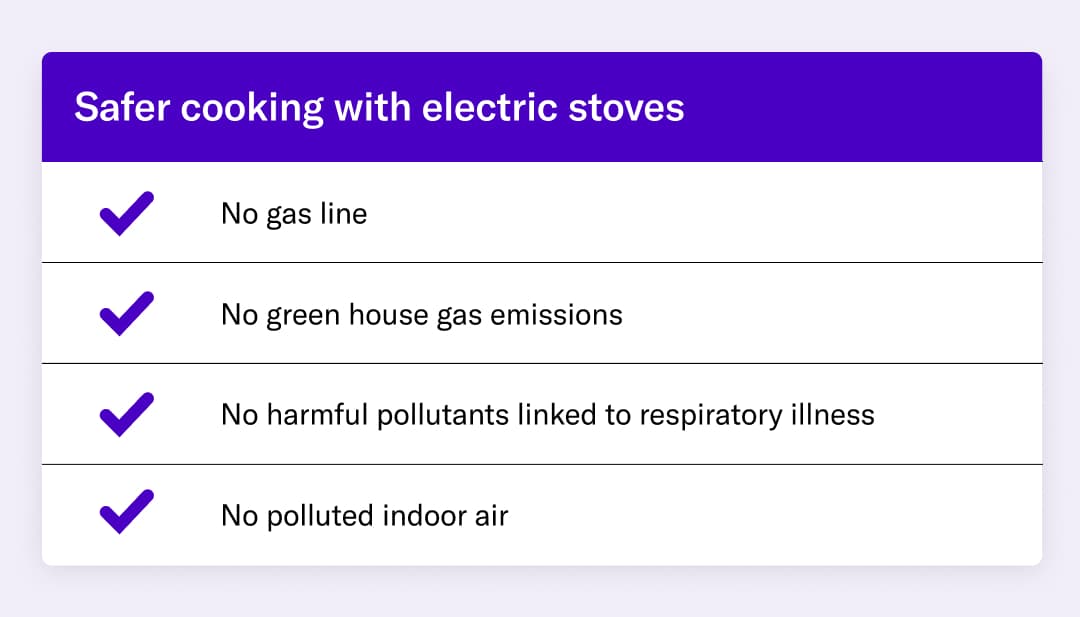 Upgrading to induction gets fossil fuels out of your home and creates a healthier environment for your family. Cooking should not be detrimental to your health or that of your loved ones. 
There's no wrong choice, except gas
Both options are superior appliances compared to a gas range: superior cooking, better efficiency, and no indoor toxins. While we recommend an induction stove for its fast cooking times and energy efficiency, you can't go wrong with an electric stove, either. The best option for any kitchen is a stove that doesn't cook with fossil fuels. 
Choosing between an induction or electric stove is not an apples-to-oranges comparison, more like Red Delicious to Honeycrisp. The same, but slightly different. Regardless, no matter what you decide, you're in good hands. Electric cooking is better than cooking with methane gas. 
Induction stoves are the best way to cook food, keep pollutants out of the air, and keep your family healthy. Electrify your home with Rewiring America's free electric cooking guide. Check it out.