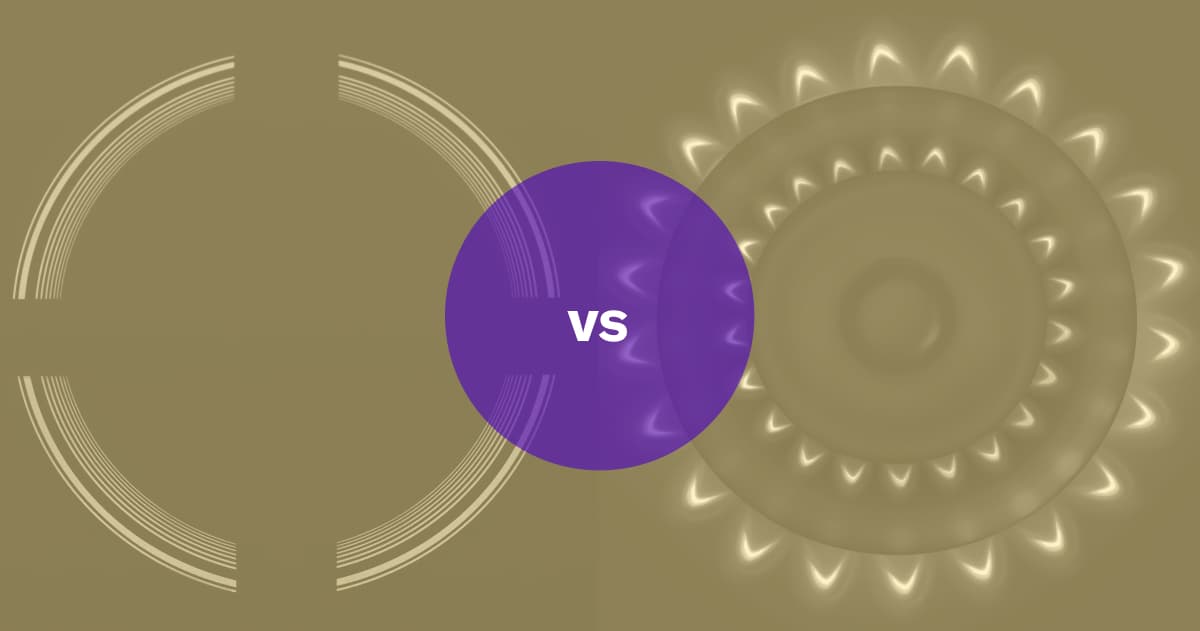 Induction stoves are better than gas stoves in every category: performance, versatility, and efficiency. These fantastic appliances are also a safer and healthier choice for you and your family. No gas line in your home. No indoor air pollution comparable to second-hand smoke. No boiling water at a sloth's pace. This is the era of induction cooking; better for your home and the planet. But if you need more reasons to upgrade, we've got 'em. Read on below! 
Induction cooking is faster
Thanks to the power of electromagnets, induction cooking is remarkably fast compared to "cooking with gas." Temperature changes mid-recipe are easy too. Get high-heat, low-heat, or even no heat all within seconds. You'll spend less time standing in front of the stove and more time enjoying your friends and family over meals. And cleaning is even quicker — rather than scrubbing grimy grates, simply wipe the glass of your induction cooktop. 
Want to see it with your own eyes? Check out this head-to-head gas-vs-induction boil-off.
Induction cooking is safer
When you use a gas stove — when it ignites, while cooking, and even when it's off — harmful pollutants are released into your home. These pollutants are especially dangerous to children and our elders. A recent study showed that 12.7 percent of childhood asthma in the U.S. is attributable to gas stove use.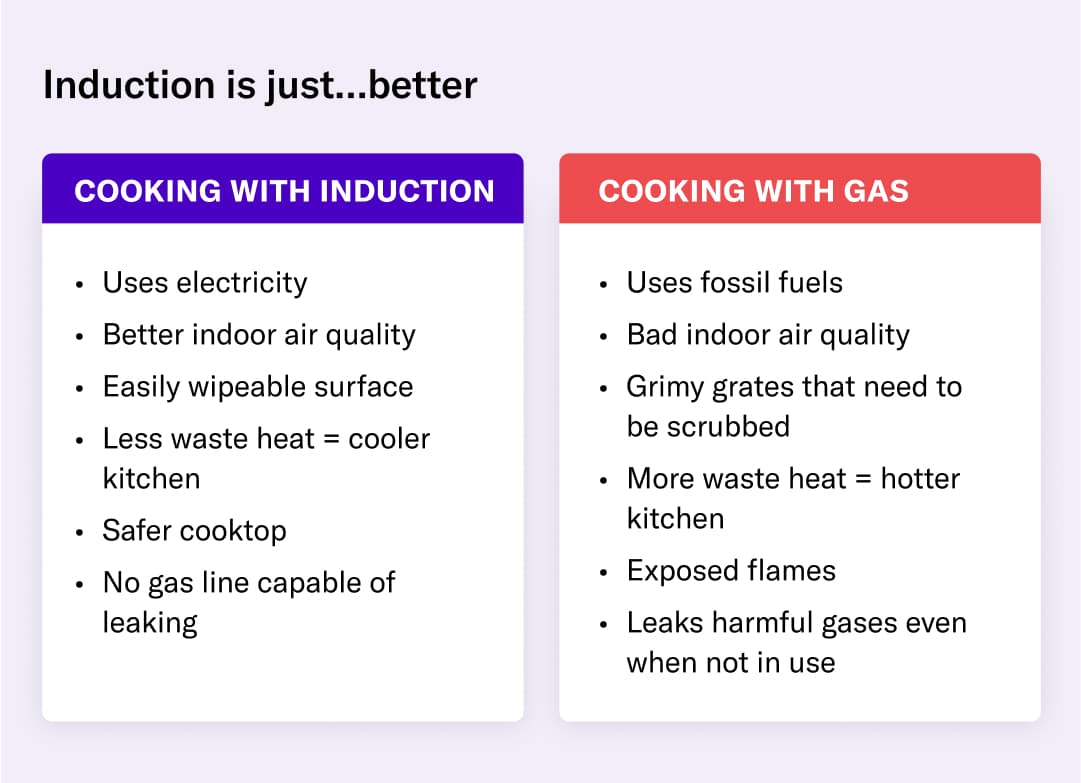 Gas also stoves emit benzene, a harmful chemical that is linked to leukemia and other types of cancers. A recent Stanford University study of 87 homes in California and Colorado measured benzene emissions from gas stoves and found that having a single gas burner on high or the oven set at 350ºF can raise indoor benzene concentrations above the level of second-hand smoke. The best way to keep your family safe from the health risks of cooking with gas is to replace your gas stove with a superior induction stove.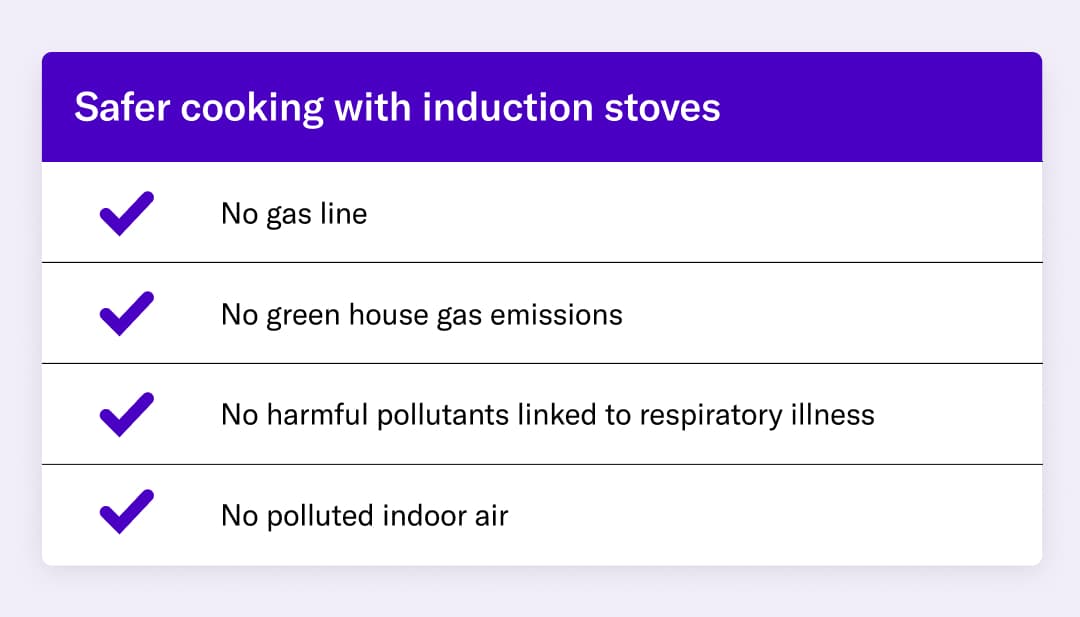 All power to the people pot or pan
You know the intense heat you feel when you put your hand over a gas stove while you're cooking? Almost half the heat energy from gas stoves goes up into the air, and not into your food. But induction converts 90 percent of its energy to cooking heat. How? With induction, the copper coils underneath the stove create electric currents that speed-heat your cookware, not the air around it.  With gas, open flames heat the air and your kitchen as much as they heat the pan or your food. Cue the sad trombone.
Cooler cooking in the summer
One of the big benefits of induction is that your pots and the food cooking within them are the only things in your kitchen that will get hot. Induction cooking keeps your home cool and comfortable even during the hottest days of the summer. No more hot, sweaty kitchens (or armpits), or spending money on takeout because it is too hot to cook. 
As an added bonus, since induction cooking doesn't heat up your kitchen like gas or traditional electric stoves, your HVAC system does not need to work as hard to maintain a comfortable temperature in your home.
A better way to cook with oversize pans
Some induction stove models come with expansive cooking zones which can accommodate oversize pans without sacrificing temperature which is perfect if you love cooking with griddle, grill, or roasting pans. No more painstakingly maneuvering your turkey or tempeh bacon, or blueberry pancakes around hot and cold spots between gas burners. As long as you have induction-ready pans like cast iron or steel, you're guaranteed to cook your food evenly and consistently. 
A cleaner alternative 
Gas stoves are bad for the environment. They use fossil fuels and emit carbon dioxide and methane. Scientists agree that emissions from fossil fuels negatively impact our climate. If accessible to your home, you can power your induction stove with renewable electricity, but even without it, induction stoves are low on emissions, don't pollute the air with harmful pollution, or contribute to warming the planet like gas stoves. Let's get greenhouse gases and toxic pollution out of our homes and the air around us.
An upgrade you'll love
Modern cooking starts with induction. Home cooks and executive chefs consistently praise induction stoves for their unbelievably fast cooking times, responsiveness, and smart technology like auto-shutoff, burner timers, and precision heating. Plus, if you are ready to switch, households can save up to $840 off the purchase of an induction stove. These electrification rebates will be available later this year or early next year. Visit Rewiring America's IRA savings calculator to learn more about your personalized savings. From simmer to boil, and everything in between, induction stoves are brilliant appliances and an excellent way to cook your favorite meals. 
Induction stoves are the best way to cook food, keep pollutants out of the air, and keep your family healthy. Electrify your home with Rewiring America's free electric cooking guide. Check it out.